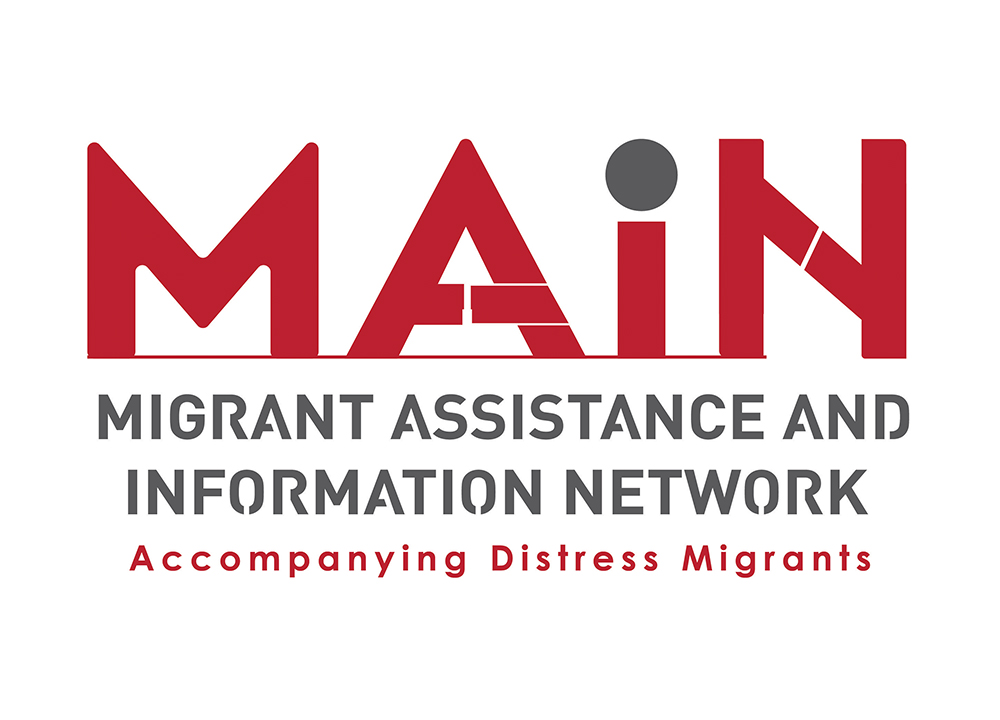 MIGRANT ASSISTANCE AND INFORMATION NETWORK
Change is the forever constant, especially for a migrant labourer. A close look into their lives will expose daily struggles characterised by physical impermanence, poor health and access to public services due to lack of legal status, lack of education, low/non-payment of wages and extreme cases of exploitation at hands of those in power. Families and children are constantly exposed to violence, hazardous living situations, distress and are extremely vulnerable to human/child trafficking and all possible forms of abuse. Language barriers together with deep-rooted social evil of gender- based discrimination and violence further add to their plight. People migrate primarily from poorer states (in terms of GDP) to the richer ones in search of work, better educational facilities and standards of living, physical security amidst political unrest/disasters, medical care and a general hope of a right to live with respect and dignity. Though the migrant labourers are inseparable part of our lives, conspicuously and inconspicuously, yet they are the 'nowhere people'. The recent Covid-19 pandemic exposed their plight even further and sheer apathy of establishments and systems led to a desperate mass exodus which resulted in a systemic collapse putting at stake their very right to life and dignity.
The Migrant Assistance and Information Network (MAIN) is the outcome of a felt-need to ensure and enhance equitable rights and relevant support to inter/intra-state migrants through collaboration with like-minded individuals as well as non-governmental and Government institutions at varied levels pan India. It is the result of multiple deliberations with various stakeholders and collaborators. This initiative also aligns itself with the recommendation of The Working Group on Migration (2017) formed under the Ministry of Housing and Urban Poverty Alleviation, Government of India, to establish helplines and resource centres to provide relevant information and support structures in areas with significant migrant population.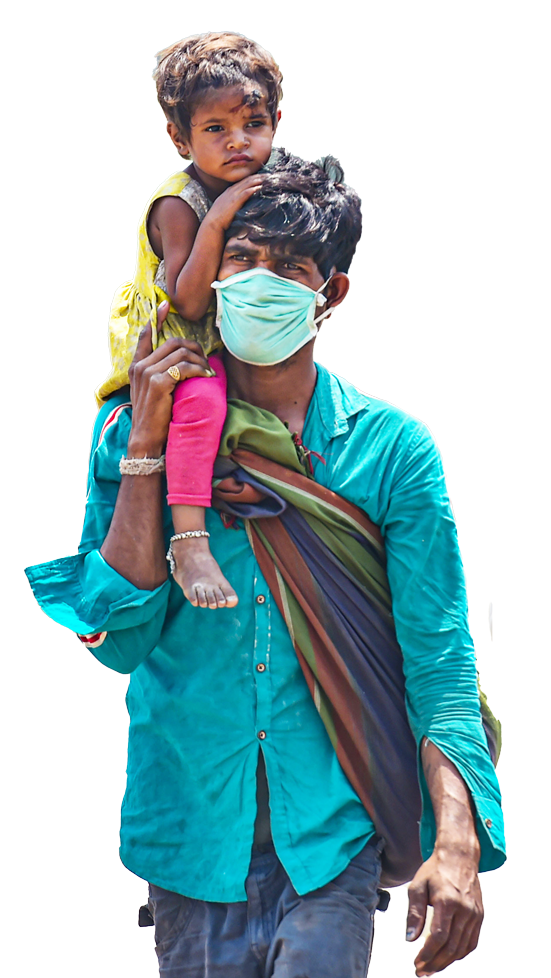 "Accompanying distress migrants to live with dignity, by building a caring humanity"
"To accompany, serve and advocate for distress migrants"
1. To accompany, serve and advocate the distress migrants
2. To serve the distress migrants by responding to their distress calls and assisting them with various services, primarily through partners, NGOs, networks and volunteers
3. To advocate for the cause of distress migrants with all relevant stakeholders, including government, by analysing the distress calls and report generated, gaps in services/entitlements, and also critical challenges being faced by them

Closeness, solidarity, care and understanding of contextual realities

Alleviate sufferings,discrimination, abuse and inhumane treatment

Lobbying, networking, policy engagements, implementation of laws/schemes, campaigns, events etc.
CENTRAL HUB
MAIN has its Central Hub in Delhi considering the strategic importance of the capital city for national-level engagements and policy advocacy. It has six strategic pillars of intervention: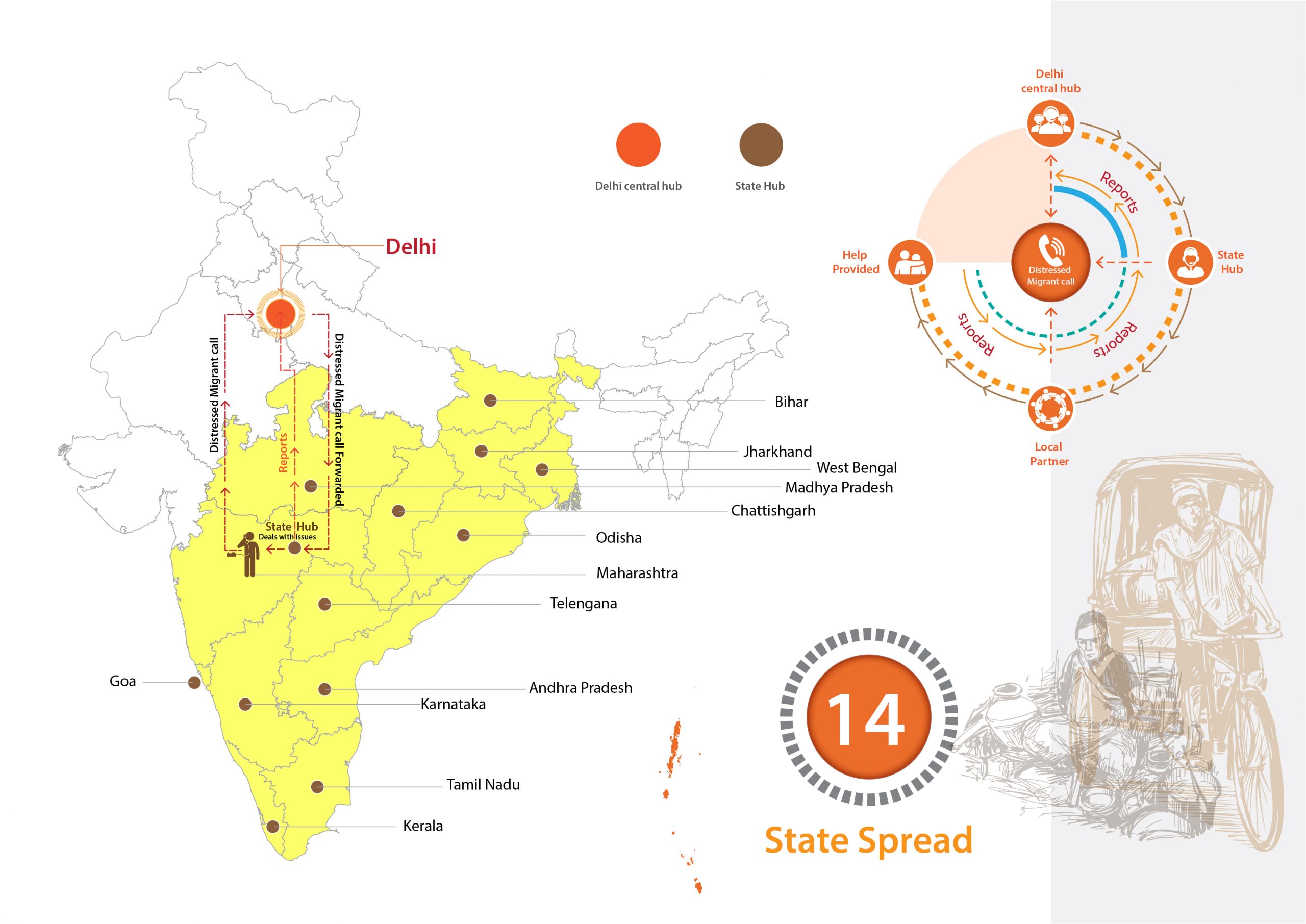 DASHBOARD/HELPLINE SYSTEM AT CENTRAL HUB
MAIN provides for a central helpline system wherein distress migrant, his/her family member or any close associate can call to seek critical assistance /information from across the country. The Central Hub team will analyse the call and route it to the concerned State Hub for follow-up and action. Based on our interventions, some of the areas of support are:
   

Legal Assistance and mediation (industrial relations, labour issues, Government/police inaction)

 Entitlements/Government schemes

 Educational assistance

 Medical assistance (Accidents, deaths, etc.)

 Mental health services

 Human trafficking and human rights violation
The helpline is being set up gradually. At present, major migrant pockets are being mapped through systematic scientific approaches.
STATE HUBS
Operational across 14 states in India, the State Hubs will be the focal entity for all direct action taken at the ground level regarding specific issues directed through the Central Hub. They function through a team of highly motivated volunteers from among the migrants who study the content of the distress call, offer guidance/legal assistance/information or linkages as deemed appropriate, and even offer to accompany relevant organisation or Government department for redressal of their concerns. They additionally organise awareness and motivational programmes for migrants and ensure that partner organisations are channelised to provide support services on regular basis. Besides these, State Hubs engage in policy advocacy, local fundraising and partnership building activities.
ZONAL HUBS
The Zonal Hubs provide training to the respective State Hubs under each Zone. They additionally monitor, facilitate micro-action research on related issues, and engage with and provide State-level policy advocacy. At present, there are two zonal hubs at Indian Social Institute, Bengaluru and Bagaicha, Jharkhand.
SOME SPECIAL EFFORTS DURING COVID-19 PANDEMIC
As an extension to providing relief and support to migrants in distress, efforts were made during the Covid-19 pandemic in addressing needs of those at the fringes. With diligent efforts from a wide network of partner organisations and more than 2700 volunteers, the Jesuit Collective Network reached out to migrants in 203 districts of 25 states in India.