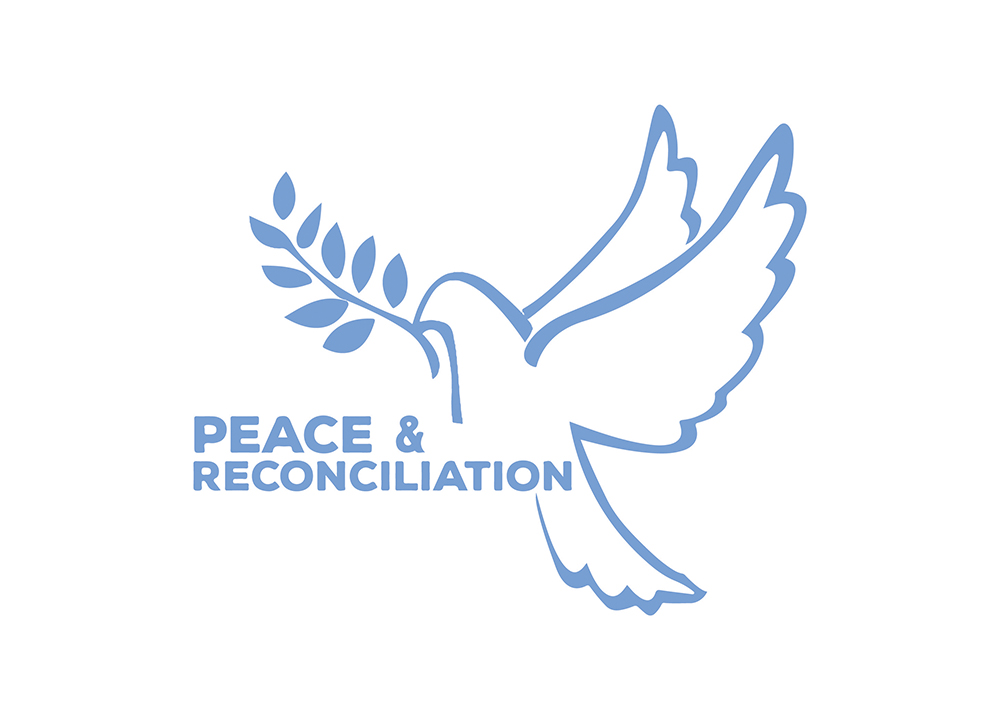 PEACE & RECONCILIATION
"A CRY OF THE MASSES"
Human society around the world is confronted with unprecedented violence, war, genocide, killings, terrorism and conflicts on a day-to-day basis, leaving people with indelible scars. Communal, caste, ethnic and gender-based violence is on the rise while so are the cases of rising religious fundamentalism which has led to polarisation of societies. Hearing the often- silent cries for peace and justice over the years, Jesuits in South-Asia conference are doing credible work based on the principle of reconciliation with oneself, humankind and all creation. These efforts fall in line with the global commitment of United Nation's Security Council Resolution (UNSCR) 2250 and the United Nations Sustainable Development Goals (SDG 16) towards building peace, justice and strong institutions.
Peace, Justice, Sustainable Development and Well-being of all sections of people, especially the most vulnerable, marginalised communities and victims of conflicts with focus on youth, women and children as beneficiaries as well as agents of change in the South-Asia Region

Establish dialogue spaces for civil society and citizens that enable peace and reconciliation process at various levels in the four South-Asian countries of India, Sri Lanka, Pakistan and Bangladesh to promote coexistence, trust building and conflict transformation

Promote research, studies and dialogue both domestic and regional level on peace, democracy, civil society, security, foreign policy, conflict resolution, economics and regional development in South Asia

Transform attitudes, beliefs, values and behavior among school and college students towards more positive development with greater respect for others and appreciation of other's religion and culture.

 Promote a culture of peace, unity and trust among various social groups by increased appreciation of socio-cultural and religious diversity; prevention of conflicts and working together for social development goals
The Jesuits attempt to actualise their vision of a peaceful society through four major interventions:
DIALOGUE SPACES ON PEACE AND RECONCILIATION
Promoting Dialogue and Peace building Platforms across South-Asia through seminars and workshops
Capacitating Jesuit Institutions on Collaboration and Networking through resource centres
Non-Violent Communication and Awareness Generation through documentation, media coverage, public events
Inter-Faith Dialogue
PEACE STUDIES
Peace studies: Undergraduate/Postgraduate/Certificate/ Diploma courses on peace
Curriculum and Syllabus Development for Higher Education
Documentation of peace dialogues and initiatives around the world
Science and Religion for Peace
Research, Policy Debates and Conferences
PEACE EDUCATION IN SCHOOLS AND COLLEGES
Capacity Building on Peace & Reconciliation
Peace Education among Students and Youth
Networking and Influencing state level institutions towards inclusion of peace education
COMMUNITY-BASED PEACE AND RECONCILIATION INITIATIVES
Formation and Strengthening of Community Peace Clubs (i.e., Nagarik Manch)
Capacity building of peace club leaders
Community mobilization
Networking, meetings and consultations
Peace campaigns and events



North-Eastern Social Research Centre (NESRC), Guwahati
Issues Addressed
Immigration and land issues
Conflicts between communities- Assamese, Bodo, Karbi and others in the State
National Register of Citizens (NRC) and the Citizenship Amendment Bill
National security and immigrants as pretexts for repressive laws like the Armed Forces Special Powers act (AFSPA)
XLRI – Centre for Justice and Peace, Jamshedpur
Issues Addressed
Tyranny, discrimination and oppression as means of violence against people including children
Intolerance and contempt for human rights resulting in violence, suppression and lawlessness
Loyola Institute for Peace and International Relations (LIPI), Cochin, Kerala
Issues Addressed
Communal Violence
Religious Fundamentalism
Political conflicts and Violence
Publication- Pax Lumina (magazine)
Samanvaya, St. Xavier's College, Mumbai
Issues Addressed
Communal/Social Harmony
Development and rehabilitation of displaced/forcibly-evicted communities
Involuntary/forced Migration and Refugees
Discrimination and human right violations towards nomadic and de-notified Tribes
Vidyajyoti Centre for Christian Muslim Relations, Delhi
Issues Addressed
Christian and Muslim divide and conflicts
Shakti, Centre for Human Rights and People's Empowerment, Gujarat
Issues Addressed
Youth of the marginalized communities as targets of those propagating violence and anti-peace activities
Gender justice and gender sensitivity programmes to reduce violence against women
Magis Bangla, Bangladesh
Issues Addressed
Terrorism
Religious Fundamentalism
Jesuits, Pakistan
Issues Addressed
Terrorism
Violence
Religious Fanaticism
Jesuits, Sri Lanka
Issues Addressed
Ethnic Conflicts
Post-war Healing
Terrorism
St. Xavier's Social Service Society (SXSSS), Ahmedabad, Gujarat
SHANTI an initiative for justice, peace and communal harmony in an atmosphere of discrimination and conflict
Shanti Sadbhavna Manch- ISI Delhi
Issues Addressed
Communal divide
Minority rights
Ethnic Rights
Violence on Women
St. Joseph's College, Bangalore
Issues Addressed
Communal and Caste Divide
Religious Fundamentalism
Inter-Country Conflicts
Terrorism
Human Rights Violations
Jesuit Refugee Service
Issues Addressed
Intolerance and contempt for human rights of refugees resulting in violence, suppression and discrimination
Social integration of refugee communities
Leadership and life skills training among children and youth
Training, advocacy and awareness generation on importance of peace
Psycho-social support for healing
Non-violent conflict resolution and gender justice