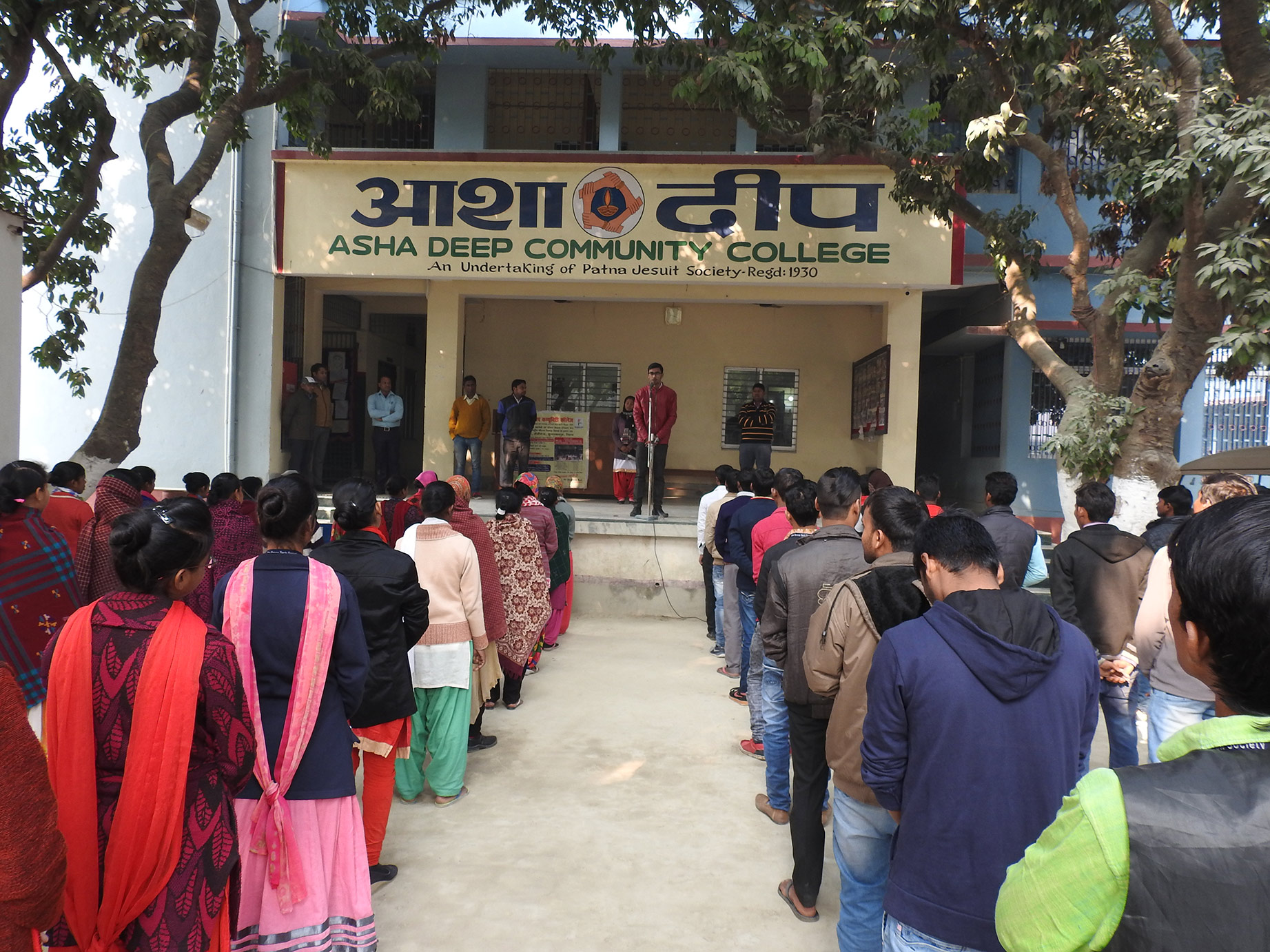 Ashadeep Community College
Ashadeep Community College, a vocational education partner of the Jesuit Conference of India under "JesuiTec", is a not-for-profit organisation registered under the Societies Registration Act of 1860. The Institute is accredited by the National Skill Development Corporation (NSDC) and is working with the marginalised sectors in Patna, Bihar. The institute provides short term vocational training, for the duration of three months and holds an 80 per cent placements record. Also, students for better output and learnings undergo complete support by the institute towards internships with the leading corporates around the country.
Till date, around 4,000 students have successfully completed the training, with the majority of them placed in various organisations all across the country. Asha Deep enriches youth with skill enhancement training in market-driven trades to youth from the nearby remote areas by increasing their economic capacity, making them self-reliant, eventually to bring about a change in their livelihoods.
The procedure followed by ASHADEEP
At Ashadeep, the teachers are mobilised to reach out to different parts of the state to search for deserving youth and encourage them towards the enrolment process.
The second step involves One on One counselling sessions for the students to analyze their interest areas and in accordance to which the trainers enrol them in the training which matches their respective areas of interest.
The third step, Once enrollments of students, are done under various sectors and batches of vocational training, orientations programmes are conducted for a better understanding.
The Vocational training programmes offered by the institute are of three months' duration, in which the students are given technical inputs designed in consultation with the industry experts and professionals. The course includes on-the-job training assignments and field visits. Valuable life skills are also integrated into the curriculum through an interactive teaching process.
The interviews take place either in the campus areas, through telephonic rounds or in the organisations itself.
The next step involves the background check of the organisations hiring the students. The institute sends the teachers accountable for the respective training, to visit the organization of the students in order to analyse the working environments. Mostly the students are placed across the country for better growth opportunities.
The Institute after the process of placements organises a follow-up session with the students up to 6 months and addresses the problems if any with their respective organisations.
The institute urges ex-students to visit the institution, to give lectures and motivational talks for the students who are currently undergoing their training. Success stories are always a way to give inspiration to those in need.
About the Courses offered
Every batch comprises over 150 trainers/students, Ashadeep provides free of cost supervision in English and computers to the enrolled students. Apart from the vocational trainings, the institute also supports various awareness programmes and activities in the campus, such as AIDS awareness, De-addiction sessions, Legal awareness program, TB-awareness program, etc.
Hospitality/Food & Beverage
Duration : 3 months
Sales & Marketing
Duration : 3 months
 General Duty Assistant (GDA)
Duration : 3 months
Electrician
Duration : 3 months
Automobile
Duration : 3 months
Solar Technician
Duration : 3 months
"The testimony of parents energises me to work for them. For an instant, one parent told me "you are a good teacher, and you transformed my Son and now he is earning and supporting my family'. She also assured me that she would send another child of hers. We also get drug-addicted students, and they get transformed. Likewise, there are many other stories to be said."